You can't win em' all, that's for sure.
Sometimes your analysis is correct, but you're stopped out because of a spike or something happened that was out of your control. Sometimes, you've just made the wrong decision.
Sometimes, the exact moment you went long, you know it was a bad trade. The trade was based on price action alone and didn't take key levels into account or the fact that the day was comming to an end, or some relevant instrument was going the opposite way. This you realize two seconds too late.
Before the trade was taken, it felt very real and you just wanted to hang on the trend and get some easy earned points.
I guess this happens to everyone once in a while, and perhaps no harm is done if you have proper money and risk management. You can't just win them all.
What is the correct behaviour?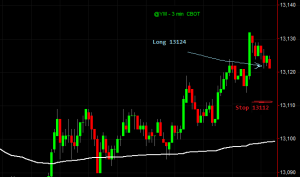 Price action tells you that this is in a good trend. The stop is put a little bit under the last swing low and you enter long.
All of a sudden, you start looking at the big picture and other relevant instruments. It also comes to you're mind that, this isn't even one of my setups, I'm just chasing here.
What then, is the correct behaviour? Is it to just let it run and hope for the best or is it to kill it instantly?
What happend?
The trend was at the end. If you've had put the stop a little lower you could have been lucky to break even at the swing high, but would probably have hold it and got stopped out just a little bit later.
Everyone makes wrong decisions, you wouldn't be human if you didn't. The question is what to do when you know you just did?
Do you let it run and hope for the best or do you kill it instantly?
For me, I just kill it. Why? Because otherwise I will never learn that it was based on the wrong reasons. I would be happy to take the loss, much better than to be lucky, because then I would do the same mistake again.
/J
Advertisement
Advertisement