Today I used the Keltner channel and ticks to position myself before a highly probable breakout on GBP/USD.
The key level 1.59750 was quite strong. It was a top Feb 29:th 2012 and had some revists after that.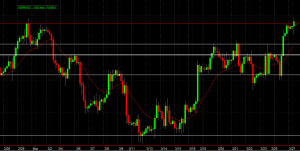 On the 1 minute chart it had just broken out from a little range and showed som trending up to the S/R level. The acceleration on the keltner channel and 1 min chart gave me some bias that it really wanted to push through.
The stop was set below 1.59700, slightly below the 1-line on the channel.
I define the Keltner channel lines 0,1,2,3,4 beginning from the bottom.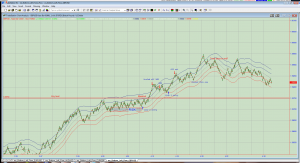 It´s easy to see where you want to position yourself when using the channel. I think it´s better than the 1 min chart.
I usually don´t scale in and out while scalping, but for breakouts I think it can be appropriate. Often, it´s very aggressive and it may be hard to get in again if you have covered. First cover, I scaled off half and took the rest out when it touched the 2-line.
The second entry (Long), I waited for it to push a little from the 1-line, just to cover myself from a fakeout. This time it´s no scale in/out, now it´s just a trend based entry.
Third one, I missed.
You have to be very decisive and chasing is a sin while scalping, so it´s better just to ignore if you hesitate.
When it fails to make a higher high and you don´t feel the momentum is there, it´s time to careful with your next entry. This time it made a lower low, the trend is over.
It´s very easy to be overexcited and want to enter again and again. I usually enter twice and after that I take a step back. It doesn´t relly matter if it´s two losers or winners.
/J