Personal Income 8.30am ET

PMI Manufacturing 8.58am ET

ISM/Construction Spending 10.00am ET
Ukraine in deep crisis

Stock traders watchlist: VXX, TSLA, DDD, UNG

Russian stocks down heavy, interest rates hiked to 7.%
Crude up big, Gold up, Equities heavily down – You know the score, it's the usual money flow response when there's a crisis brewing.
We highlighted the possibility of this Ukraine news becoming a problem last week and up until now the markets weren't too concerned. We saw a sell off on Friday when news of Russian troop activity on Ukrainian soil came to light. But a firm bid came in quickly to close the month on a positive note.
But, this morning the markets do care…… As I type Crude is on it's highs +$2, DAX on lows -270, Gold sitting at VWAP but still up $24.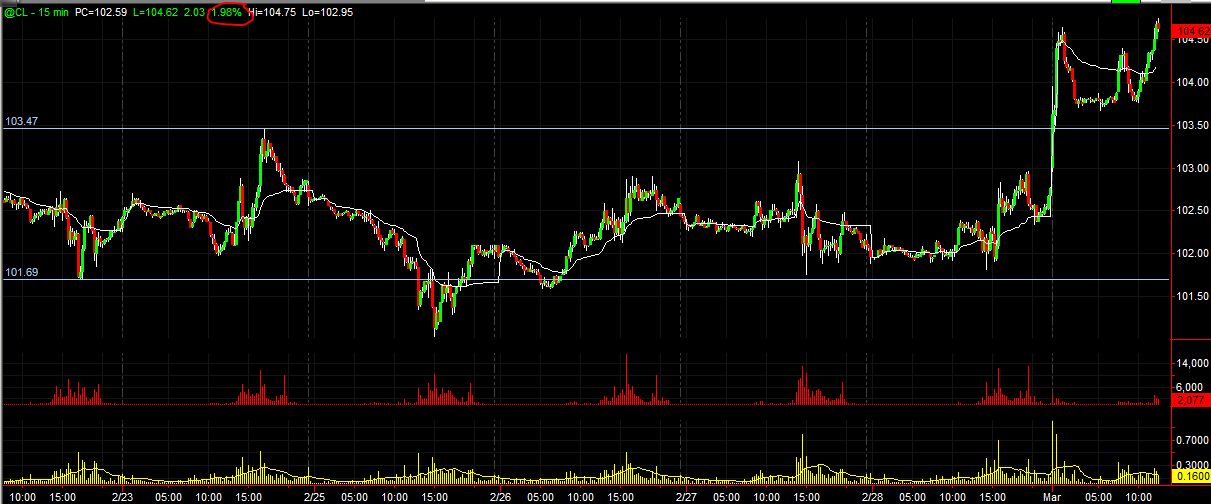 It's the uncertainty of everything that concerns investors the most, how will this play out? How aggressive will Putin become? Will Ukraine defend itself? Will the west support the Ukraine, financially or militarily? If they do where will China sit? If the west don't help, does that give the green light for every Country to take what they want without fear of reprisals from US/UK?
Strong bull runs usually end with a catalyst, a tipping point that bulls can no longer ignore. Is this the catalyst? It's too early to say, but where we close today will give us a very good insight into the minds of other participants.
The US futures certainly aren't in capitulation mode yet and I suspect the general theme for long exposed portfolio managers/hedge funds is "wait and see". "Let it play out, there's no need to panic just yet, maybe put a few hedges on, or trim some of the riskier stuff"
With that in mind it's what happens with price today and tomorrow that everyone will be watching.
NB: There's huge headline risk at the moment so remember to allow for that in your risk management planning.
Good trading all, make it a great start to the month.
Market Ranges – Data taken from first trading day of 2014 to 2nd March 2014, updated each Monday