Pre Market Note
China -2.86%

Very poor export numbers from China

Copper -2% (Chinese demand slowing)
NFP smashed expectations on Friday

Stock traders watchlist: BA, MCD, BBBY, DDD, RDX

20,000 Russian troops now in Ukraine
Our China slowing theme has popped it's head up again. Exports fell 18.1%; far more than expected, this sent Shanghai spiraling down 2.86%, putting that into perspective it would be a -470pt DOW move.
That's on top of the weakness we saw in Chinese equities the past few weeks. This theme continues to grow and if you cast your mind back to last month, a Bloomberg survey revealed that China was the biggest concern for many portfolio/fund managers – So it's worth watching.

Russia now has approximately 20,000 troops in Ukraine and reports of increased "violence and menace" are growing before the referendum in 6 days. Putin is being accused of bullying Crimeans into accepting Russian rule despite 58.5% of the population being ethnic Russians.
Meanwhile the west threatens sanctions, and…….. Russia warns the west not to impose sanctions………it's the usual game of chess and at the moment it looks like Putin is winning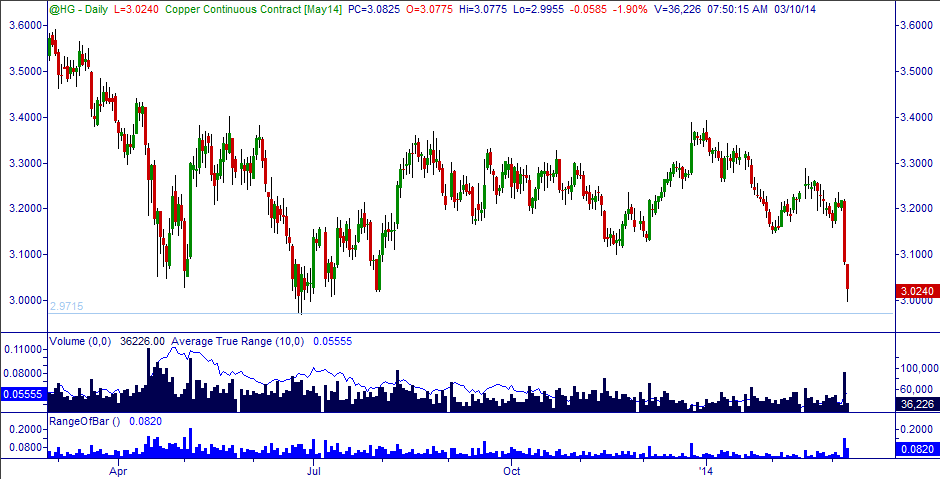 Commodities will be worth watching today, in particular copper, gold and crude. Copper is approaching some pretty key levels.
US futures have recovered from lows, and aren't far from a neutral open as I type. DAX continues to struggle, although the cash open has been the low of the day so far. So whilst we aren't ripping to highs bears are taking a breather for now.
Good trading,
Market Ranges – Data taken from first trading day of 2014 to 7th March 2014, updated each Monday