Wednesday 12th March 2014
Treasury Budget @ 2pm ET

Copper down 5% in Shanghai
Asian markets very weak; Nikkei -2.6%

Stock traders watchlist: PLUG, TSLA, GDX, DDD

Another large IPO – Candy Crush maker $7.6bln
China news is still dominating the wires; Defaults in the corporate bond market and copper prices. That's putting pressure on the indices and crude oil. It's a broad based move with gold up, equities down, crude down and yen up. Dax is still bearing the brunt of the weakness, down another 100 as I type. Check out the DAX daily chart below with 50/200 moving averages for reference. We aren't far off some pretty key levels.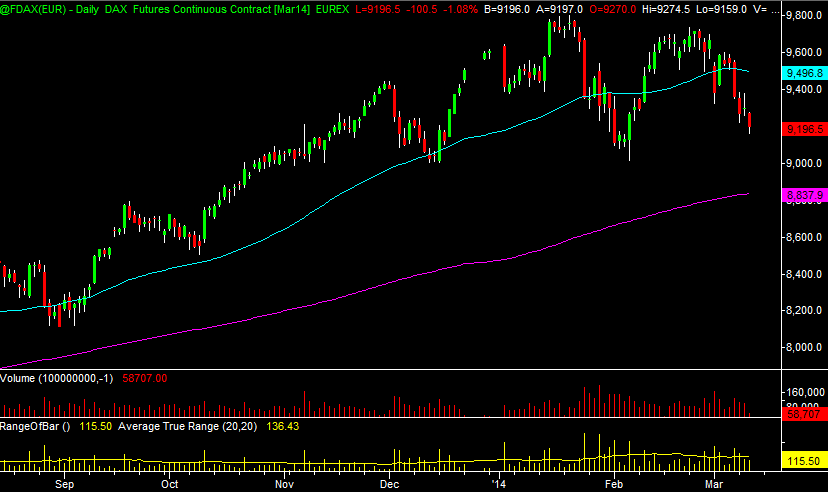 Candy Crush maker files for IPO making it worth $7.6bln. That's an incredible valuation, but financial reward in business comes from giving people what they want and although I've not played it myself I know a lot of people who do……so while it seems expensive, for the amount of people you have access too it's probably not.
Many fuel cell companies took an absolute beating yesterday, in particular PLUG Power. To me this is a market warning sign, investors are piling into hyped stocks in the hope a greater fool buys from them later. We'll always have greed and fear in this business but that does strike me as extreme on the greed reading.
Ukraine is still quiet but remains a significant headline risk.
Good trading,
Market Ranges – Data taken from first trading day of 2014 to 7th March 2014, updated each Monday