Two nice little scalps on DOW futures yesterday morning.
The most important for the setups to work is to have very strong support and resistance levels.
On the leftmost part of the screen, you´ll see a 5 min chart from monday, with two exponential moving average, blue is 60 and red is 20.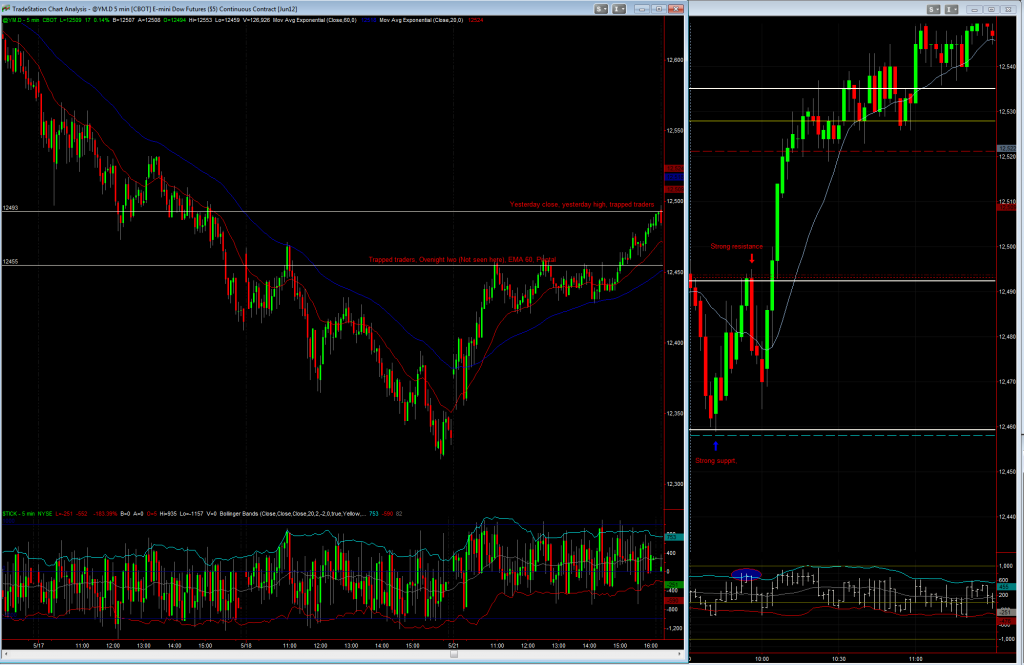 Trade 1
If we begin with the support level at 12455-12460.
We have the possibility of trapped traders from the shooting star at about 2:15 (ET) the day before, with a help of a TICK extreme.
The support gives an extra edge when it also was the low of the overnight session.
EMA 60 on a 5 min daily chart is quite accurate in trending environments, so that also give us an edge.
Pivotal is calculated with numbers from yesterdays high, low and close.
All in all, we have four reasons that say that it takes some guts to break this level. If you don´t see that guts on the tape, then it probably won´t break.
The setup:
It´s not perfect, but almost. I like it to open with a little bigger gap and move towards the strong support instant and then have yesterdays close as a target. This one was close to perfect, because of our exceptionally strong level at 12455.
Execution
I like to see if there´s something special on the tape, and I don´t think there were that much to see there this time. I trust the support level and put the stop just behind it. High probability with low risk. What more can you ask for?
Trade 2
We have string resistance at 12490.
Yesterdays close was also the high of the day. I think there are people trapped when there has been so many days of trending down and we have had a attempt to correction, many think that it will continue down and go short at the end of the day, selling the "top".
The setup
The resistance isn´t as strong as the support at 12455, but here we have an extra edge and that is the TICK extreme a couple of minutes before it touches the level. I will take this trade every day, every time. Same as the other setup, high probability and low risk. Just put the stop above yesterdays close.
The execution
On the tape, you could tell that there were more speed and aggression to the down side, so I hit the bid and move my stop to break even quite fast on this one.
TICK extreme
I like to put a bollinger band on the TICK and consider it extreme with it breaks the band on either up or down side.
The third time it touched then resistance at 12490, there were news comming out, I wouldn´t even consider touching it then.
In the last hour yesterday, there was a pretty good opportunity for shorting when that level had a revisit, but that´s another story.
/J