Live webinar, recording
Today, I hosted a live trading webinar, trading the US Treasuries.
I was able to catch a very good entry, I thought I´d share with you. I did eventually scratch the trade when I didn´t feel the momentum was with me any more, and of course that was the wrong decision in hindsight.
The entry
I was long on ZN (10-year T-note) at 131.085 and 131.090, because there was a big iceberg sitting on 131.085, 13K was traded there and I decided to get in. I usually split my entries on these kinds of trades, half on limit and half on market.
The exit
I put one limit sell order on 131.090 when it didn´t go fast enough. The reason for that is that I want to see if I get filled instantly, just to see if the offers behind me are real or not. If I get filled, I know it´s going to go a few ticks, but if it takes too long, there´s probably real offers there, and then I get a bit more careful with the rest of my position.
On the ZF (5 year T-note), there was a lot of size traded on the offer and the 131.080 on ZN was never touched once I was in the trade. With this in mind, I shouldn´t have exited the trade, and this I will have with me next time.
I also watched the ES, and if ES would have sold of a bit into the "belly", I would have a bit more confidence holding the trade.
The result
Eventually the price went up, and I´ve "missed" out on a good trade, but on the other hand, I felt it could have gone the other direction at the time.
I did not overdub the recording, I think it´s better to let the original sound speak for itself.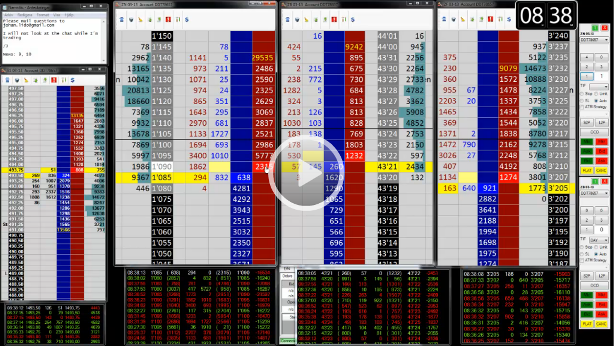 /J