Time is 02:11 EST
Trading Forex with Multicharts and LMAX as a broker. I will post something on what I think of this combination later.
Daily charts for four of the currency pairs that I follow: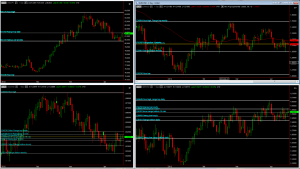 The plan:
"
Forex –
JPY – Near top of Range top daily. Has stalled a bit from a trending move upwards
* L If it breaks RTD 81.443, have a target at Year high 84.176. Wait for trending
* S If it reverses to the down side, Wait for trending down to SLW 80.333
EUR – In a range on daily charts, between 34900 (Year high) and 29980
There is a congestion around 31200 on hourly
There is a congestion area at 31310 on 5 minute
* L If it leaves the congestion are. Wait for trending move, but target is hard to define, maybe Congestion 5 min, Year high at 34900 is far away
* S If it leaves the congestion area. Wait for trending and target is Range bottom weekly at 29980
AUD – We´re in a range on weekly basis, on the lower side
Range bound on hourly basis, it´s in both inner and outer range.
Congestion 04020
* L If it breaks inne range top 04186, target is outer range at 04530 and maybe next stop Year high 08558
* S If it breaks Inner range Bottom 03869, Wait for trend move to Swing low 15 min ar 03612. Final target outer range bottom 03075
GBP – Range bound on daily chart. In the middle of the range
Range bound hourly. Upper side of range
* L It has to break resistance at 59505 and starts trend towards Range top hourly
If it breaks RTH, wait for trend move and target is Year high. Don´t think it´s gonna reach it though
* S If it breaks inner range bottom 15 min, we have a swing low on hourly at 58669 that is a natural target.
After that is Range bottom daily at 58181″
Later:
Today I will record the entire session, I´ll guess it will be between 03:00 EST – 05:00
Post that later today or tomorrow
Update 05:00 EST
I was trying to position my self for a range breakout, but I don´t think neither EUR/USD or GBP/USD broke out, so there was only small scalps. Profit but very little.
I will come back later when I´ve done with the video clip.
The video:
I´ve had some technical issues with the recording, so there will be no video on this one.
/J
Advertisement
Advertisement