Since I consider myself a diligent guy, it´s hard for me to just sit and wait for a setup to come to me, even though I know its probably they best way to trade.
I´ve found a way that works for me. That includes both some intense scalping and a more sniper approach to trading. I will go through my scalping approach in this post.
Trend watcher
First of all, I will only trade this way when it´s trending. Therefore, I have a watching workspace with four currency pairs and three index futures that I usually trade. Later, I´ll add some commodities to the watch list.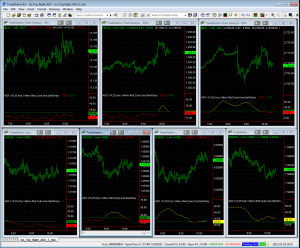 ADX 3 min watcher
I use ADX on a 3 min chart on my watch list. If ADX > 25 and still climbing, I will take a closer look on that instrument and see if I consider it to be in a trend and possible to trade.
Below is my 1 min chart on AUD/USD. This is my primary chart, where I also have an ADX oscillator, but you shouldn´t need that to define if it´s trending or not. It´s pretty easy to see anyway.
1 min chart on AUD/USD
The Keltner channel
Keltner channel flow on AUD/USD tick
I have two keltner channels on this chart.
One with a length of 20 and ATRs = 2, and the other one with length of 20 and ATRs = 4.
If I´m shorting, as with this example, I will name the lines, from top to bottom: 0, 1, 2, 3, 4.
Interval is, Kase, target range = 0.0001 using 1 tick interval.
Entry, based on channel lines
You should aim for taking entrys between line zero and one, otherwise it´s chasing. I know it can be a pain, watching it fall like a rock and it doesn´t pull back to line 1. It´s important not to chase, because in forex trading, it will snapp quite fast against you, that´s why you want to enter only at line 0 or 1. If it turn against you when you have entered after a good pullback, you will at least be on the "safe" side, and the damage isn´t that big.
Exits
Exits is always the hardest. I try to feel the acceleration and hold it when it still moves in my direction. If I have gained a few pips, then I usually  look at my 1 min chart and see if I can find a good target there, for instance a key level.
If it slows down and reverses slightly, I will usually exit fast and start looking for the next entry.
Average time in a trade for me: Somewhere between 20 seconds and 5 minutes.
Stops
I don´t use a hard stop when I´m scalping. If I´ve entered on the 1 line, I will exit if it touches the zero line and sometimes even before that. Depending on the spread and commision you have with your broker, this might not be a good approach, it will cost too much.
Scaling in / scaling out
I use an all in – all out approach when I trade this way.
I think it may be good to scale in sometimes, if you have a good run and it´s still trending, you can take add in on the next pullback. I don´t scale in, but sometimes I regret I didn´t, but who doesn´t.
Log your trades


Log for channel based entrys
It´s very important to log every trade that you do. I think it´s quite important to also write down the reason behind each trade, before and in hindsight.
The reason when trading with this technique is always the same: In trend, trade the pullback. So, there is no real reason to write about that every time.
The important thing here is to have a minimalistic approach, else you just won´t log it. That´s my experience. I write down the following:
Currency pair
Direction – If it´s Long or short
Entry line – 0,1,2,3,4. Very good to see if you have been disciplined enough and not been chasing
Exit line – 0,1,2,3,4. Good to see if you´ve cut the winners to quick.
Profit / Cost – Was it a winner or a loser
Quality – Was your bias correct, was it still trending. It can be an A even if it´s a loser, just entered too quick sometimes.
Number of pips – How big was the profit
Time of day
Time in trade – How long were you in the trade
Comments – It´s good to write just a little comment. Sometimes you have the wrong bias or chasing, or it´s just a good trade.
Summary
I would not consider myself an expert on forex trading in any way, far from it. Maybe that´s why this scalping technique is working, because I don´t care about anything but the trend, key levels and to stay out when there´s news.
Often there will be small scalps, but sometimes you´re rewarded with a big run.
For me, it´s very good practice for reading price action and also good for discipline. Both skills can be quite useful for trading other instruments, such as DOW futures.
/J